Review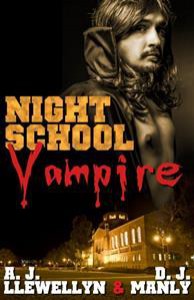 This is a 4.5 star review
Yup, another vampire book for me and Night School Vampire was a winner!
Take one sexy and sarcastic vamp who wants to do something with all his free time, feel closer to humanity and maybe write that one great novel. Put him into a creative writing class with a hot teacher, whose family just happen to be vampire hunters, and crazy shit happens!
That's basically the plot of the book. The vamp Socrates is bored and takes a night class. His teacher Devin is a wet dream come true. Devin's also writing a book/play based on his crazy family. He doesn't believe in vampires. Someone is killing prostitutes and suspicion falls on the vamps, but other forces are at work. The story gets a bit convoluted with other forms of vamps, and Socrates being revealed as a prince. Honestly, I was a bit confused and the resolution was a bit rushed, but that didn't bother me much. The story was written so well, and the ride was fun and fast paced. I love when the dialog is interesting and fun, not stilted, and the banter between Socrates and everyone else in the book was enjoyable and funny. There's also a surprise manage, and the chemistry between Devin and Socrates is pretty hot as can be expected when a vamp is involved.
My only negative about this book is that it was very short. There was a lot of material that could have been expanded, but nevertheless the story is good. Night School Vampire will make you want to go back to school and look for your sexy vampire!
Reviewed by Lana at
The Novel Approach