Review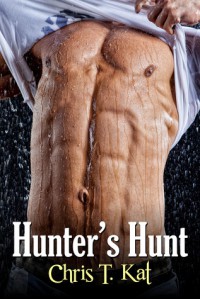 Hunter's Hunt
is a bear and cub story. No, not the bear that lives in the woods but a large hairy man who likes other large hairy men who will submit to him.
Hunter is the stereotypical bear, large and hairy. He likes his men to be the same, but submissive. One night Hunter's at his favorite local leather bar and in walks his total opposite. Adrian's car breaks down and he finds himself in the same bar as Hunter. He's physically opposite to Hunter but still catches his eye. Hunter proceeds to help him and there you have the set up for their story.
The relationship followed the standard theme for these types of stories, which, for me, made the sex feel a bit predictable. I liked the lead characters, they were well written and had no major flaws to create conflict, but I felt like I'd read this story a dozen times before and with marginally better results.
Hunter's Hunt
was a decent read, not bad at all, engaging enough for me, but with no new or interesting twists, it was missing that extra spark that would have made it hard to put down.
Reviewed by:
Lana